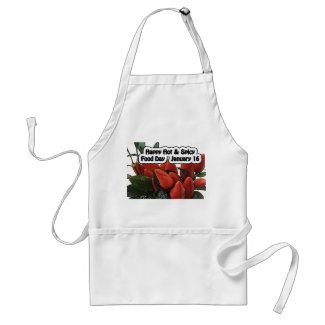 Happy Hot & Spicy Food Day Apron January 16
by
Everydays_A_Holiday
See other
Hot and spicy food day Aprons
Just so we don't get too confused, today is "International" Hot and Spicy Food Day. I did find some references to the fact that there is also a "National" Hot and Spicy" Food Day in August, but those of us that love spicy food won't mind at all if we need to celebrate twice a year.
When we think "hot" - we think of peppers...and I found this visual guide to hot pepper to help you decide just how hot you like your peppers.
Pick a pepper today...and have a spicy day!